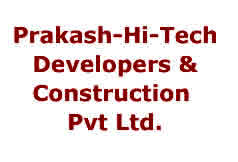 About Prakash Hi-Tech Developers & Construction
Most Reliable Name In Real Estate In Uttar Pradesh.
Prakash Hi Tech Developers & Construction Pvt Ltd can be the best resource pool for your needs for a home,Appartment , Commercial space, Office space, Plots, Institutions , Shop, Office etc in a township project.
Try once you will become part of the group
.
Established in 1999 (Regd No.20-24324) OF 1999 as a modest-sized but focused construction company. Even during our formative years, we decided that innovation, uncompromising commitment to quality and customer satisfaction would be our cornerstones.
Thanks to this, 11 years on, we bring the same passion and expertise to residential projects like, NORTH CITY,NORTH CITY ENCLAVE ,NORTH CITY EXTENSION,NORT CITY POCKET -A,NORT CITY POCKET-B,AANCHAl INDRAPRASTH,GALAXY HOMES in Bareilly.
Latest News
Running Projects..
Ashoka Annexe:. No Of Flats 40 Total Amount 18.00 Crore
3BHK 24 NO. Sale Amount (@3300/ -Per sq Fit) 12.25 Crore
2BHK 16 No.Sale Amount(@3300/-Per Sq Fit) 5.75 Crore
Platinum Hight:. No Of Flats 34 Total Amount 20.83 Crore
3BHK 24 Units Sale Amount (@4100/-Per Sq Fit) 16.20 Crore
2BHK 10 Units Sale Amount (@4100/-Per Sq Fit ) 4.63 Crore
Ongoing Projects
Compeleted Project
North City
North City Enclave
North City Extension
North City Pocket-A
North City Pocket B
Aanchal
Indra Prastha
Galaxy Homes
Ashoka Annexe
Booking Start
Contcat Now......
Phone No..

+919319099001,
+919412736213(Mobile)